Wednesday, March 25, 2009
Copper wire activities
Here is a 6 inch square slab of #2 copper wire woven in a dutch weave. This piece is in Atlanta with Casey, my step-daughter. My wife has a piece 9 inches tall and 16 inches wide. It weighs 18 pounds. I am making them on a machine I invented. It is in pieces right now awaiting motors. When I get it back up, I will begin making pieces to sell out in the lobby.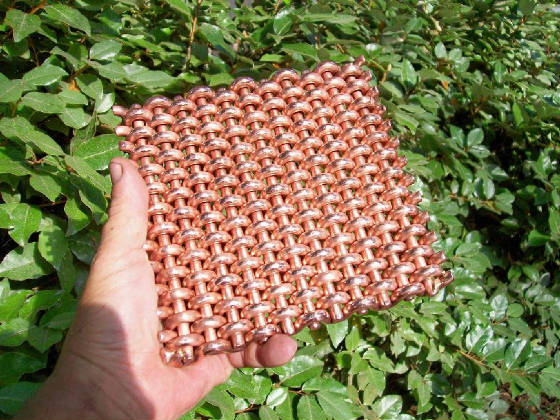 25 mar 09 @ 11:43 pm edt
Friday, March 13, 2009
Fire Arms License
I need to augment my income from the shop, and improve the utilization of my machine tools. On Jan 10 I sent in an application to the BATFE for an 07 FFL. This would permit me to buy a gun, take it apart to learn it, fix it, improve it, and resell it. It is a manufacturer license but also allows for buying, selling, modifying, improving, fixing, and ammunition manufacture.

I still need an on site inspection, modified City business license, surety bond, and state license.

I have constructed a tube furnace that can be used for heat blueing of gun components. In heat blueing, you must heat the object, subject it to oxygen, and allow a certain thickness of oxide to form on the surface. By constructive interference, the transparent layer of oxide will pass only one color of light. My goat is to replicate the "Pre-WWII Colt blue". You can see it any time you burn a piece of steel on a grinding wheel. There is the royal blue of Colt and there is a beautiful purple.

The oven is constructed of a 2" diameter quartz glass tube, 60" long, wrapped with 100' of nichrome wire, covered with 6" of fiberglass wool insulation. I can reach 550° F at only 90 V. It takes about an hour to put a nice royal blue on polished steel. It is uneven though.
13 mar 09 @ 10:21 pm edt